Golden Race has launched an upgraded version of its online virtual sports platform to cover the losses generated by the lack of real sports events.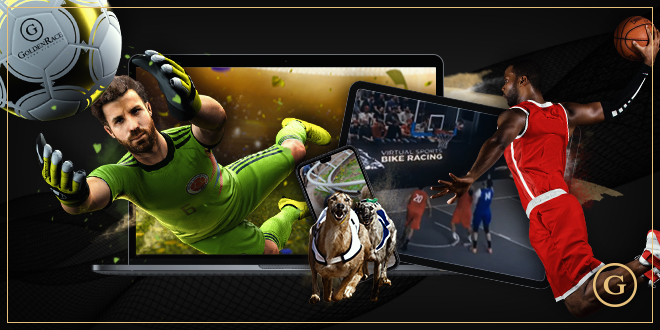 Like the rest of the world, the gaming sector is facing difficult times due to the coronavirus sports void and has to reinvent itself to recover from the drop in revenues. As a solution to save sports betting companies, Golden Race has launched the latest version of its online betting platform, featuring a complete set of popular virtual sports and games including a variety of instant sports that are completely unique in the market, such as 3×3 Basketball and Real Fighting.
The company's enhanced cross-platform solution presents an improved user interface and specific content that aims to cover all the demands of the players who usually bet on real sportsbooks. In fact, this is the first fully managed Virtual Sportsbook in the industry, providing the closest to the sports betting experience.
This online product maintains all the benefits of its former versions: the sportsbook user interface, the wide variety of betting markets, realistic odds and an extensive offer of virtual sports, while it presents a set of games and features that aim to maximise players engagement. A complete suite of instant virtual sports has been added to the mix, with elements that are completely unique in the market, such as in-play betting and cash-out options.
Instant sports and games
The platform includes the biggest catalogue in the industry of scheduled and instant games, with more than 20 Virtual Football Leagues and tournaments, Basketball, Fighting, 3D Horse Racing, Dog Racing, Speedway, Motorbikes, Spin2Win and Virtual Keno.
The sports events present industry-leading 3D graphics for virtual football and horse races and an exclusive pre-recorded video library of unique MMA-style fights, basketball matches and a wide variety of motorbike races. Other popular lottery and casino style games, such as Keno and Spin2Win have also been included in the instant mode. In addition, a great number of these games have been licensed in Malta, the UK, Spain and other major jurisdictions.
Real Fighting
This is the headline addition to this instant collection for the company's online multiplatform – alongside 3×3 Basketball, 3D Horse Racing, Dog Racing, Speedway, Motorbikes and Virtual Keno.
Based on the increasingly popular MMA, the game is a seamless blend of real high definition video action and 3D digital worlds featuring 16 professional fighters.
The odds are based on real fight action and each fighter has their own unique physical characteristics, style and catchy nickname.
Each combat includes up to five rounds, a wide variety of popular betting markets and with the possibility to bet on a different result for each round (Victory Combo).
All of the instant games include a "skip" feature that allows players to move instantly between the different phases of the games, without having to place a bet or watch the video.
3x3 Basketball
The virtual sports and betting solutions provider is debuting an online version of 3×3 Basketball – the first virtual game in the industry with a cash-out function, which also offers in-play betting markets.
Footage for the game is pre-recorded using real players from the US and Europe and set on a customisable background with animated logos and ad placements. There are two types of betting: pre-match markets and in-play markets including for the last minute of the gameplay, where the cashout function is made available.
The betting markets for both of these types include win-lose bets, handicaps (spread lines), total lines and race to 21 – a set of markets that guarantees attractive betting opportunities for players even in games that are no longer competitive in the final minute.
Best football ever
The launch of Golden Race's updated platform also includes a major improvement on its Virtual Football, a game that has taken a qualitative visual leap forward to become the most authentic 3D football simulation.
Mastering the latest motion capture trends, the expert Visual FX team has developed a full set of proprietary technologies that establish a major precedent in the virtual games industry.
An authentic football stadium has been recorded with on-site scanning, while the matches are given extra realism through sports commentators and true sports camera angles captured by professional cameramen and real team moves with motion captured from professional soccer players. The game features real odds for every major league and tournament in the world.
In order to provide a complete set of odds that are as realistic as possible, the platform risk management system generates them using a set of real data provided by professional bookmakers.
The latest version of Golden Race's online solution is a real sportsbook with virtual outcomes, since it features realistic odds, updated major football leagues, the most familiar betting interface, and all the features that players love in one single platform that requires a zero-learning curve.
All these advantages make this product the closest to an online real sportsbook for players and the perfect alternative when real sports are not available.