As a world leading online sports betting brand, bet365 is fully committed to enhancing its relationship with its marketing partners by providing industry leading products, insight and tailored market support.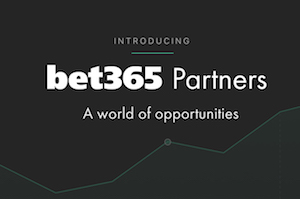 With this in mind, the bet365 affiliate programme has been renamed bet365 Partners. The bet365 Partners programme has a fresh look and feel and introduces improved features designed to support, inform and enhance the relationship between bet365 and its partners.
Over the coming months, bet365 Partners will introduce the following key developments: - A responsive website to check results on the move. - A redesigned library of geo-responsive creative material. - Enhanced visual dashboards to analyse data at scale. - An improved link management system providing further granularity on performance. - An improved news and alert system to communicate important updates. - Real-time stats for selected performance metrics.
To highlight bet365's long-standing commitment to responsible gambling, a detailed compliance section will be available with the most up-to-date guidance for each market. Our highly trained marketing managers will provide additional personalised support, answering any questions and providing assistance to help bet365 Partners to maintain their compliance.
A spokesperson for bet365 said: "Due to the ever-changing nature of affiliate marketing, we were keen to establish a brand and platform that would demonstrate the company's continued commitment to this global digital marketing channel. With over 63 million customers it is important that our partners feel part of a brand they can be proud of, that is representative of their involvement in supporting its growth.
This led to the creation of bet365 Partners, which signifies how we see our long-standing and emerging relationships. With compliance and safer gambling at the heart of it, the new site brings better resources, clearer communication and enhanced support. This is a key focus for the business and our partners, and will help to place bet365 in an even stronger position."
bet365 hopes that the launch of bet365 Partners will be a stepping stone for new advertisers to join its award-winning programme, one that is recognised globally and is supported by 20 languages. With five engaging products to promote, dynamic creative, high conversion rates and impressive player retention, it's not hard to see why a partnership with bet365 is the right choice.
For further information, please visit www.bet365partners.com or contact its support team via [email protected].