The popularity of bowling is undying and, like everything else, it has moved with the times. One of the key aspects of any entertainment centre is how it looks and this is particularly relevant for bowling alleys.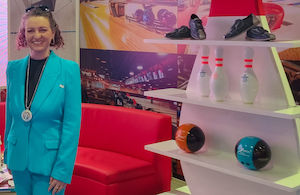 Switch Bowling recently launched its Style Series, a unique offering, with its clever and sophisticated design. The product is available in an endless array of colours, but is also made from the highest quality, sturdy materials; these materials are stronger than ever and designed to withhold wear and tear for longer.
Feedback from customers thus far has been immensely positive, from the moment we showed our first furniture prototypes at the IAAPA show in 2021. Not only do they find the elegant design very appealing and easily integrated with their own designs, but they are also excited about the idea of customising the colours to their own needs.
In line with some of the latest innovations in gameplay and scoring, we have focused on more and better integrations with other systems used in the industry, to facilitate set-up, migration and integration into one central system for our customers – or to allow customisation for what suits the users best. Graphics are enhanced, speed is boosted to keep up with the fast-paced changes in the world of technology. It's so important to stay ahead of the game, so to speak, when it comes to innovation – this is one side of bowling that needs to be constantly evolving and developing to be better, faster and more responsive.
Keeping within the realms of technology, social media can now be used in so many ways to help businesses grow, by expanding their reach to a growing number of customers and supporters through influencers or promotions that appeal to a wide range, for example. The possibilities are endless and the social media platforms are evolving so rapidly – they really can be used in the most imaginative ways.
There have been a number of recent trends that have been noted in bowling, including mini, boutique and family games, but there does seem to be a particularly strong trend toward duck-pin bowing and smaller boutique-style centres opening up, especially in the US. At Switch, we are working on some exciting ideas to reinvent the fun side of bowling. We know this will appeal to the new generation of gamers and business owners alike.
By focusing on design, innovation, technology and quality materials at an affordable price, we can appeal to a wide demographic. The most attractive bowling equipment on the market is well within your reach and Switch makes your dreams a reality. As a smaller, family-run business, we have the knowledge and the time to focus on the needs of customers and help them along all phases of their bowling or FEC projects.
If I were to offer readers one piece of advice it would be to never give up! You are on the right track and your ideas are great – just find a way to convey those ideas and turn them into reality – perseverance is key when it comes to convincing others of any new idea.
Visit www.switchbowling.com for more information.