South America 2010 Update: Country by Country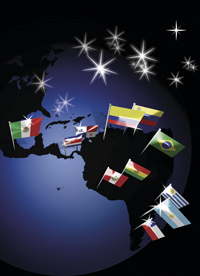 BRAZIL: Latin America's biggest economy is quickly emerging from the global crisis. Much of this is down to ex-President Inacio Lula da Silva, who implemented prudent fiscal and monetary policies shielding Brazil from the worst of the global financial crisis of 2008 and 2009. Brazil's economy grew at its fastest annual rate since 1995 in the first quarter of 2010 and is now set to show its fastest growth in more than 20 years.
Another boost comes with announcements that the World Cup will be held in Brazil in 2014 and then the Olympic Games in 2016. Both events will emphasise Brazil's position as a global leader and will offer Brazil the chance to showcase itself to the world. A "zero tolerance" crackdown on crime is also expected in Rio de Janeiro before the Olympic Games are held.
Casinos in Brazil have been outlawed since 1946 and the question of whether to green light them has been up for debate in the Brazilian Congress since 2008. The bill (PL) Nº 1986/03 puts casinos under the wider scope of legislation set to regulate its troubled bingo sector.
As well as proposing a stricter government control over bingo halls, under current proposals eight large-scale casinos would be allowed in certain underdeveloped areas in Brazil, especially in the north east. This would help improve the economy and generate tourism, especially as many Brazilians have to travel abroad to places such as Punta Del Este to gamble.
This report was first published in the November 2011 issue of InterGaming magazine.