New from World of Rides is the latest version of its 2WD Outlander Driving Experience, designed and built during lockdown, which now has double the power output.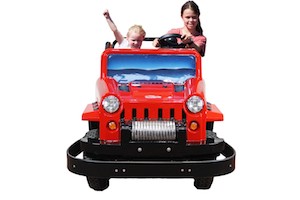 The increased power allows it to run on most non-smooth outdoor tracks, such as dolomite, short grass, woodland trails and tracks with slight inclines, which no other manufacturer has previously been able to produce successfully, the company says.
The large twin-seat ride can also be run as an off-road driving school, as it is built with a fully working dashboard with ignition key to start, with operational seat belts, horn, headlights, direction indicators, accelerator and brake pedal with rear brake lights.
This also makes them suitable for use as an edutainment attraction, either coin-operated or by a remote stop/start system for accompanied younger children, with the transmitter itself now upgraded and powered by lithium batteries, complete with its own plug-in battery charger.
Bespoke theming is available, and the cars have built-in safety barriers fully surrounding each vehicle. They are CE tested and have a 12-month back-to-base warranty, along with full HSE-BACTA-ADIPS documentation.
According to World of Rides, UK operators that have already ordered them are asking to run them on a price-of-play of £3 a ride for the very first time, using tokens to alter the price of play during the various seasons. The company also aims for short delivery timescales on the product, so operators can have their new family attraction up and running in four-to-six weeks.