Climbing walls specialist Walltopia said it is coming up with an advanced playground structure to combine climbing activities for very young children.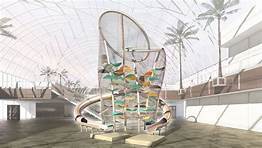 The company told us that the structure will be easy to navigate and will permit children of all ages to explore and engage with fun obstacles without limitations of a harness.
Included in the structure will be the Cloud Climb (pictured), a sculpture-like stairway and the Adventure Trail, an elevated playing field composed to houses and netted tunnels, slides and other supplementary modules.