Location-based VR specialist VRstudios is ready to launch its newest game, Football Frenzy.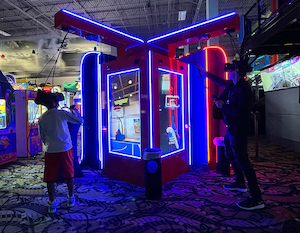 It follows the successful Hoops Madness basketball themed game, but is centred around American football.
Football Frenzy invites players of all skill level to undertake the role of a quarterback, with the VR aspect taking away some of the pressure of holding a physical football.
The game scales depending on the player's performance, ensuring to maximise fun and minimise frustration while maintaining a healthy amount of challenge.
Chanel Summers, vice president of product development at VRstudios, said: "VRstudios crafted Football Frenzy as an addictive and arcade-friendly quarterback passing experience that anyone can play and have a great time in an immersive stadium environment.
"The game's 'smart' receivers and dynamic difficulty system make it inviting so everyone can feel like they have the skills to play like their favourite quarterback."