Operation Money Grab is a new game title from Finnish active mixed-reality company Valo Motion, playable on its immersive platform, Valo Arena.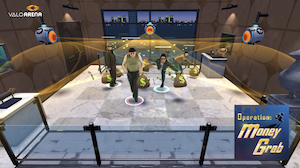 The game immerses up to six players in the Museum of Money, where they must dodge high-tech security systems and solve puzzles and challenges to pull off a big heist.
"Valo Motion takes great pride in developing Valo Arena experiences that get people on their feet and moving", said Raine Kajastila, CEO and founder of Valo Motion. "Operation Money Grab is entertaining and physically active fun for everyone."
Designed with proprietary motion capture technology, Operation Money Grab effectively transports players into the middle of a spy movie as they explore and escape different floors.
Operation Money Grab offers four levels of difficulty for all ages, with an expansive 5x5m play area and two large screens creating a realistic atmosphere which requires quick-thinking and cooperative play. The game also comprises the latest effort by Valo Motion to foster active play and a healthy lifestyle in an entertaining and unique way.
Operation Money Grab is playable now on the ValoArena platform.