As part of its 10-week build up to the IAAPA Expo in Orlando, Florida, US, Unis Technology has unveiled a new game, Dynamic Orbs.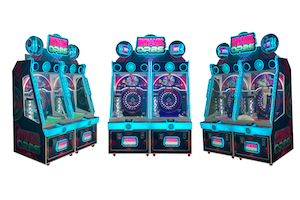 The ball drop game includes a number of features that Unis says: "Takes traditional arcade gaming up a notch."
The game features a large wheel and a red light that rotates in a circle and to win prizes, players need to press the button to release a ball, trying to drop it into one of three "stop" slots to halt the moving light. Where the light stops determines the prize.
Elsewhere, the bonus wheel allows players to score more tickets and even a special Prize Orb drop. Each Prize Orb is equipped with an RFID tag, which all hold different ticket values that the game tracks.
The cabinet features an eye-catching design with rotating side marquees and vibrant lighting. It will be on show at IAAPA Expo from November 14-17.