Jersey Jack Pinball's (JJP) latest machine, themed to the Disney hit film Toy Story 4, has been released.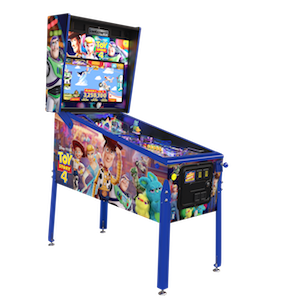 Featuring the familiar characters of Woody, Buzz and Bo Peep, players are transported into the world of the film with full voice acting and an original soundtrack, which includes a special rendition of Randy Newman's famous "You've Got a Friend in Me".
Designed by JJP's award-winning team, the project was led by Pat Lawlor, who designed the best-selling pinball machine of all time – The Addams Family.
The platform includes proprietary technology including light shows and animations from the film, while players can use the Duke Caboom jump ramp or blast into the jet bumpers to collect a super jackpot. A number of special awards are on offer, including extra ball, tiki party and super loops.
In addition, the machine features a digital photo booth that takes pictures during play, providing players with an image that can be shared on social media. Toy Story 4 is also comes with full Bluetooth connectivity for wireless audio and Wi-Fi connectivity for over-the-air software updates.
The machine goes on sale today (June 15) at 12pm EST.