Jersey Jack Pinball is celebrating the 50th anniversary of The Godfather with a licensed pinball game.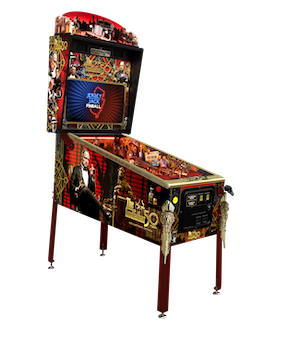 The game is available now in both Collector's edition (pictured) and Limited edition, featuring sounds and visuals from the claassic film series and beyond. Featured are characters like Don Vito Corleone, Michael Corleone and Sonny Corleone, and two versions of the theme song "Speak Softly Love," performed by Slash and Grammy Award Winning musician Mark Tremonti respectively.
The game makes use of 29 all paths, a three-ball lock which can feed all three of the game's flippers, "The Compound" active newton-ball lock, four custom sculpts (an interactive Caporegime, Statue of Liberty, LED animated water fountain and a bust of Vito Corleone), an under-playfield subway system, exclusive JJP HotRail lighting and more.
An official release for the game reads: "Collect soldiers and enter the Don's office to take on new jobs. Shoot the ball into The Compound active newton-ball area to defend your family stronghold from incursions by the enemy families. Need to make a quick getaway from the upper flipper? Shoot the ball into The Hideout or take the laser-cut steel CityScape loop ramp to outrun your enemies.
"Rip the opto-spinners to upgrade your weapons and start flinging 10 playfield multiplier Molotov cocktails for major points. Bash the interactive Caporegime toy to clear a path to the heads of the opposing families and get ready for an interactive pinball playthrough of the most iconic scene in movie history, the baptism."