Stern Pinball has launched a new game, Black Knight: Sword of Rage, with the iconic pinball character returning for the third game in the Black Knight franchise.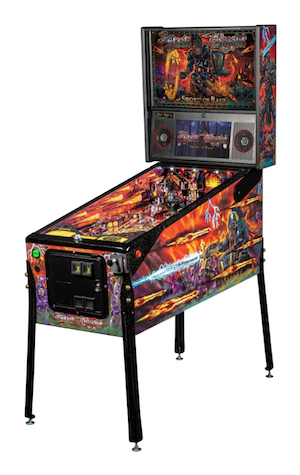 The game will be available in Pro, Premium and Limited Edition models.
"There's nothing more iconic in the pinball universe than the Black Knight character," said chairman and CEO Gary Stern. "Created by game designer Steve 'The King' Ritchie, the Black Knight has always taunted and antagonised payers to battle him and now for the first time they will be able to fight back."
Each of the three models of the game has a custom-sculpted, interactive and multi-functional Black Knight bash toy, featuring bi-directional motorised flail, a glowing RGB helmet and individually controllable expressive lighting to interact and taunt players with custom speech and a sliding coil-driven shield that will block shots.
All models have the Magna-Save, a player-controlled magnet used to prevent a ball from draining and timed resetting drop targets. The game also features a legacy sound package performed by Scott Ian of Anthrax and custom speech by Ed Robertson of Barenaked Ladies.