Spree Interactive is to release a new multiplayer VR attraction, the VR Playground, accompanied with a new kid-friendly VR shooter, Splish Splash, at the DEAL Expo 2023 in Dubai.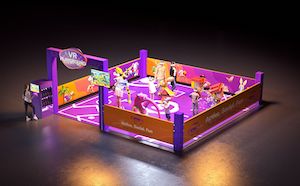 The manufacturer of VR attractions for FECs and trampoline parks is partnering with entertainment industry experts, Amusement Services International (ASI), for the launch of the family-friendly free-roam VR product.
The VR Playground is the latest version of Spree's award-winning multiplayer free-roamVR Arenas. With a new look and boasting new features, such as an auto-play gameplay list feature, the VR Playground utilises state-of-the-art HTC Vive Focus 3VR headsets. Designed to maximise revenue while fitting in a compact venue space, the new VRPlayground is available in 10-player, six-player, and now four-player configurations. It has options for footprints as small as 30sq.m.
Spree's latest VR shooter game, Splish Splash offers a new island adventure, suitable for players as young as six years old. Expanding its kid-friendly VR Laser Tag game bundle with the introduction of Splish Splash, Spree offers the first VR shooter game designed specifically for a younger audience. Players take on the role of a frog avatar and engage in an exciting water gun battle. With features such as virtual ziplining, vast underwater environments, and fort building, Spree say Splish Splash delivers a unique and immersive gaming experience.
Sarah Stief, head of content at Spree Interactive, said: "Following the success of our VR Laser Tag games, we wanted to bring that Spree magic to the whole family. Splish Splash with its whimsical graphics and amusing gameplay is perfect for the lucrative 6-12 demographic.
"Play and learn in a new world; Splish Splash is a dynamic environment providing entertainment for all ages."