IAAPA Expo will see the launch of Sega International's new skill-based redemption game, Zombies Ready, Deady, Go!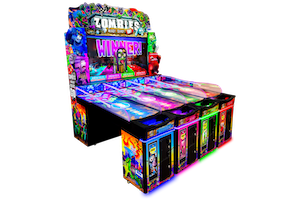 The four-player experience is a classic midway-style derby game and is suitable for players of all skill levels. They must roll balls into holes to move their zombie down the playfield, with the player that reaches the end first crowned the winner and awarded the most tickets.
The cabinet features bright colours, lights and zombie theming, while the 65ins screen that showcases players' zombies and their progress draws in a crowd. It also includes six-channel sound for an immersive experience for each player. Sega says that the cabinet is compact and modular, designed with operators in mind.
During the game, zombies must overcome obstacles such as crawling rats, flying bats and live wires that can zap them, slowing them down and encouraging more action from the player. During the final sprint, each zombie gets a boost, giving each player the chance at a podium finish. A mechanical zombie located on the playfield also opens its mouth to allow players to win the big-ticket bonus.
The experience is presented by "live TV presenters" Ken Chase and his zombie sidekick, Brian De'ath. Sega says that the characters, jokes and graphics aim the game at a child-friendly audience.
Justin Burke, sales director at Sega Amusements, said: "The game has received an outstanding reception during its field-testing phase, with strong income performance. This game's success is a true testament to its innovative and creative approach that breathes new life into the classic midway derby-style gameplay with a modern twist. It is an excellent choice for arcades, FECs and other socially competitive entertainment locations, making it a sure-fire hit among the crowd."
Zombies Ready, Deady, Go! will be available to view at the Sega Amusements by Kaizen Entertainment's IAAPA Expo stand located at booth 1006 at the Orange County Convention Center, Florida, US, from November 14-17.