SAM 3.0 (Subordinate Agency Machine) is the latest in Sirplay home. Just an internet connection and few steps and in a very fast and intuitive way bets can be placed online from anywhere in the world through a simple app.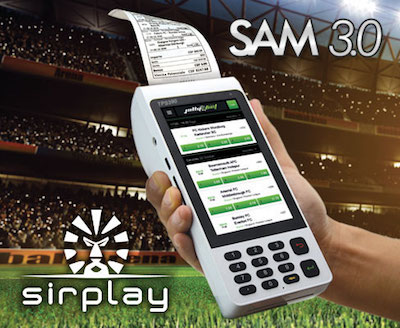 This allows to create an infinite number of mobile betting cashiers, since the new terminal has the potential of an Android smartphone equipped with the point-of-sale and an integrated printer to release the bet tickets.
Thanks to a simple app anyone, anywhere, can place bets by connecting to the Sirplay platforms.
The device has the following features: - a magnetic card reader; - a smartcard reader; - a contactless card reader; - communication: GPRS, WCDMA/CDMA1X/ethernet /dail-fino (optional) handheld smartcard terminal; - peripherals doors: one USB OTG, one rs232, one db9.
In a statement, the company said: "This is just one of our projects about mobile applications. Sirplay is going to explore this new world, aiming at realising new cutting-edge products through the development of the great potenial of the apps universe."