The recently launched VR fitness title PowerBeatsVR has entered VR arcades worldwide.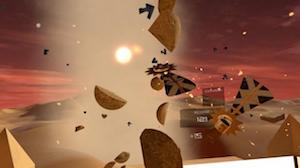 The game is now available on two major arcade platforms, SpringboardVR and SynthesisVR for commercial use.
The rhythm-based game sees players smash rocks to the beat of a diverse and energetic soundtrack.
The developer, Five Mind Creations, is an indie game studio from Munich, Germany, and develops VR games for fully immersive, room-scale solutions such as HTC Vive, Oculus Rift and Windows Mixed Reality.