The developer of the popular ParadropVR game, Frontgrid, will bring new attractions to the IAAPA show next month.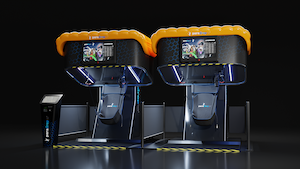 Having launched its new compact VR product, ParadropVR Pod and three new series featuring nine fresh games, the company will headline its Neon Nights, a fly-at-night game.
ParadropVR has been launched in the US this year with one installation at Sprokett's Fun Factory, an FEC and bowling centre in South Dakota, plus an installation at the National Infantry Museum in Colombus.
Now the Wales-based company is promoting ParadropVR as a potential hit esports events product.
The benefit of ParadropVR is that it is operator-free but ideal for the whole family, as they descend in a parachute guiding themselves through obstacles.