Alberici, a leading Italian manufacturer of automatic payment systems and accessories, has released two series of Parabolic Illuminated push-buttons: the Halo Parabolic (MY series) and the Spherical Parabolic (MC series).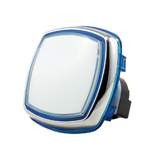 Key features of these series are a new core and a new plunger, both parabolic, a result of continuous research carried out by the R&D department. The parabolic structure creates new levels of light reflection and brightness.
Halo Parabolic (MY series) Illuminated push-buttons stand out thanks to double luminescent twin contours (Halo effect), which enhance the lines and modern design, as pictured. The Spherical Parabolic series (MC) stands out thanks to its spherical shape, which spreads even more brightness. In fact, these new push-buttons present a large reflective surface, also on side borders.
The MY and MC push-buttons, characterised by an easy and firm snap-in mount, are available in several and different shapes. They can host, as well, four different sockets; in fact, besides the zero-degrees miniature socket and the mini electronic one, they have two brand new sockets.
The first one hosts a 90-degree plug and is characterised by reduced volumes under-deck; the second boasts a patent thanks to its innovative and dedicated mechanic system.
For these new series, besides the wide range of illuminated devices that are already available, Alberici has purposefully conceived a patented five-LED PCB, with LEDs specifically designed to intensify the light diffusion.
This smart illumination system, available as an option, enhances the brightness features of these push-buttons.
Finally these push-buttons, thanks to the first-choice materials used, create a charming effect, both aesthetically and by touch.
Visit the Alberici website to discover more!