Head Rush Technologies, manufacturer of adventure recreation equipment, has introduced the Tru-Lock Automatic Locking Carabiner for auto belays.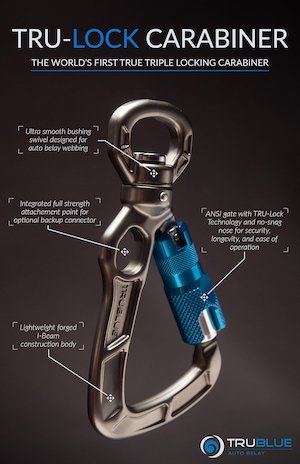 This aluminium carabiner, which the company describes as the "world's first true triple locking" product of its kind, has a lightweight I-Beam body. Designed with auto belay webbing in mind, it has smooth bushing swivel and an integrated full-strength attachment point for an optional backup connector.
Also featured is an ANSI gate with Tru-Lock technology and no-snag nose, all intended for security, longevity and ease of operation.
The Tru-Lock Carabiner is currently only shipping on TruBlue XL devices and replacement webbings. It will be made available on all other models (including the TruBlue Speed) in the near future.