Electric Gamebox has joined forces with Rovio to launch a new Angry Birds experience.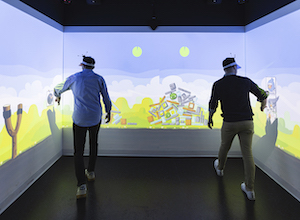 It is a new, life-sized gaming format, that will officially be launched on June 29.
The pigs from the game have been transported into the dual slingshot battle arena at Electric Gamebox.
Players use multiplayer slingshots at either side (see picture) to work together and fight against the farmyard antagonists.
The game uses Electric Gamebox's technology, projection mapping, motion tracking and surround sound to fully immerse players into the world of the Angry Birds allowing them to become part of the game.
Will Dean, CEO at Electric Gamebox, said: "We're thrilled to be able to bring Angry Birds to the immersive gaming space. It's such an iconic game and being able to bring it to life in a way that hasn't been done before through our unique technology has been incredibly exciting for the team. We can't wait to see fans playing Angry Birds in a brand-new format."
The game is available to play across all Electric Gamebox's UK locations – Manchester, Essex, Southwark and Wandsworth.