Raw Thrills has announced the imminent release of its Minecraft Dungeons Arcade for the international market.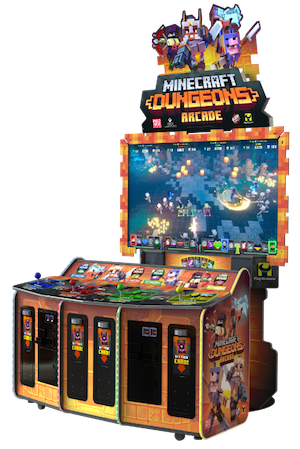 Minecraft is one of the best-selling video game franchises on record and the new Raw Thrills and Play Mechanix version for arcades will follow the partnership's very successful Halo: Fireteam Raven game.
The combination of Raw Thrills and Play Mechanix, in a joint venture with Microsoft and Mojang Studios, is taking the popular console and computer game into the arcades and FECs sector.
Minecraft has sold over 200 million copies worldwide and has 126 million monthly players active. In its arcade version, there is space for up to four players to make use of the wide array of weaponry to fight enemies across nine levels.
The Raw Thrills presentation comes in a 65ins HD display cabinet with LED lighting. With each play, one of 60 collectible cards is dispensed, helping players to customise their game.
Minecraft Dungeons is beginning to be shipped this month. It will feature at the International Bowl Expo in Louisville, Kentucky, US, on June 23-24 and at the AEI show in Las Vegas, June 30-July 1.