The virtual reality studio MajorMega is showcasing its new two-player virtual reality motion product Hyperdrive at the Amusement Expo in the US, which will hit the market this summer.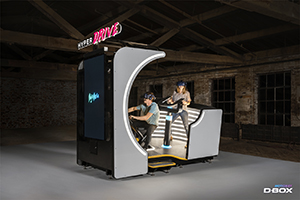 The 64sq.ft Hyperdrive utilises motion and wind simulation technology to bring its competitive gaming, races, battles and collaborative missions to life.
The game allows one player to drive and steer the futuristic vessel as their partner utilises a 180-degree turret gun system to ward off enemies and interact with environments. The unique design is both card system and coin-op ready, featuring a 75ins HTC Vive display, attractive LED light show and quick, easy installation.
Michael Bridgman, co-founder of MajorMega, said: "The split responsibilities of a driver and gunner setup adds immediate replay value as the players want to experience the other perspective and challenges in the game."