LAI Games has partnered with a YouTube gaming channel on a new redemption game.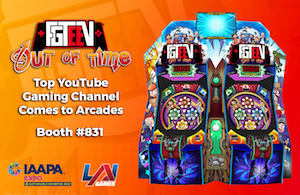 Set to debut at the IAAPA Expo in Orlando later this month, Out of Time is a quick-play redemption game designed alongside internet creators FGTeeV.
The game's time-travel theme is inspired by the channel's upcoming fourth graphic novel of the same name and features three chances at a Super Bonus win.
Available in a two-cabinet configuration, it features characters from the novel as well as an overhead digital display for presence.
FGTeeV: The Family Gaming Team has more than 53 million fans across social media and, alongside its videos, offers merchandise, books, music and more. Its merchandise is sold at major outlets such as Target and Kohls and LAI will be displaying some of it at booth 831 at the Expo.
Alongside Out of Time, the company will also be exhibiting two never-before-seen games.