The Wizard of Oz, Emerald City Edition coin pusher from Elaut is a vibrant new product for 2023.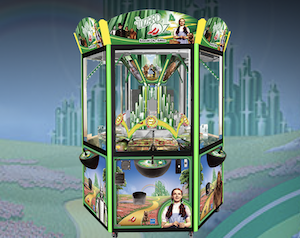 The stylish new coin pusher from Elaut follows on from its initial The Wizard of Oz machine, expanding on sights and sounds from the classic film in a fresh and dynamic way.
The new experience is available in two, three and six-player versions, and will be available from the first quarter of 2023.
Elaut's upcoming game made a surprise appearance at the recent EAG Expo in London, where many could be seen basking in the game's colour and stature.
Officially licensing the lore and imagery of the beloved 1939 film, The Wizard of Oz, Emerald City Edition features an array of intricate components, such as collector cards and chips, a closed loop system and a new yellow brick road bonus.
In the game, players are able to win both character cards and colourful game chips, with the option to either collect or redeem them for tickets.