Inowize has launched QBIX, a new six-player unattended attraction.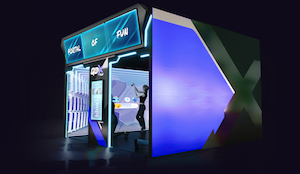 Featuring three interactive screens, each guest is equipped with a controller to play games that last between five and eight minutes.
The attraction measures 169sq.ft and includes a number of effects that enhance gameplay such as wind blasts and a motion floor.
There are no straps, no wires and no headsets, meaning that an operator is not required to run the attraction.
It will officially launch at the IAAPA Expo in Florida in November and the first 8 QBIX units will be installed in an FEC by the end of October.
Stefan Murariu, business development manager at Inowize, said: "This product is extremely exciting for entertainment venues. There's a lot of value in an unattended six-player attraction, especially with such an efficient footprint. Our forecasting shows that with the estimated gross revenue per year, operators can get ROI in as fast as six months!"
Claudia Mihalache, CEO at Inowzie, added: "After creating virtual reality experiences for over a decade and seeing how Arkadia six player VR Arena impacted the FEC segment in the last five years, we decided to expand our product range.
"When developing QBIX - The Interactive Portal of Fun we applied all we knew from working with virtual reality and actively considered the needs of the operators in the field. That's how we came up with an attraction that is attendant-free, multi-player, interactive, and overall fun to play."