A fully market-ready vendor of candy floss, Fairy Floss, is now being released by Australia's Cashflow Entertainment, run by Ray McGowan.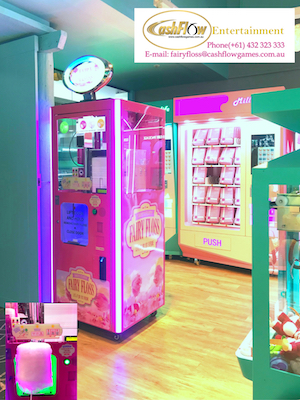 He is targeting the international market with a focus on the Middle East for the product, as well as the Australasian domestic market.
McGowan has spent two years in research and development of his Fairy Floss product, testing several key hardware and software improvements on the well-known Intermatic candy floss machine, for which he has the rights.
"That original machine was launched 13 years ago but did not gain the market penetration that it should have, for a number of reasons. Those problems have now been overcome," he said.
"The machine is now fully capable of being left unattended to work by itself – as it should always have been.
"It is simply a stand-alone kiosk to vend cotton candy and will vend hundreds of times without supervision or attention."
In Australia, the major operator, The Entertainment and Education Group, is now starting to site the machine in its Time Zone FECs and Zone bowling centres.
"The focus is now on international penetration, through distributors or direct sales to end-users."