A new attraction from Triotech and BoldMove Nation called Champi'Folies has opened at the Le Pal amusement park in the Auvergne-Rhône-Alpes region of France.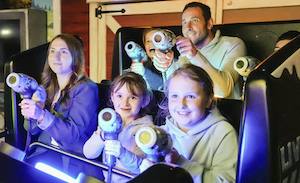 The two innovators threw a special celebration event to usher in the new ride for the park and collect feedback from "seasoned industry fans" and bloggers.
Le Pal's new Champi'Folies game, the first instalment of the compact Smash & Reload ride concept by Triotech and BoldMove is said to boast dynamic media scenes alongside easy, non-violent and ultimately family-friendly gameplay.
The ride is accessible for a broad range of ages and is customisable, allowing operators to tweak the ride's narrative or theming on the occasion of birthdays or other party types.
Le Pal's Bennet said: "We choose this ride as we wanted to offer a new kind of attraction to our visitors. Champi'Folies is a true family experience that can be played between young children, parents and even grandparents.
"This type of ride can usually be only found in the big parks so we are pleased to offer this in a medium park to complement our offer."​ ​
Erik Huijing of Netherlands-based dark ride news site, DarkRideDatabase, said: "A smash hit! Champi'Folies is definitely one of the smallest dark rides we've ever seen. However, with its rotating cars, high quality interactive scenes and ride time of almost 4 minutes, it proves that size does not matter if you want to create a fun immersive experience!" ​
Attractions industry veteran ​Marcus Gaines also commented on the new ride, saying: "I can't wait to see more of these opening up at parks around the world. Smash & Reload is sure to be a huge success. Congratulations to all involved in delivering such a great attraction."