Cashless solutions provider Embed is to launch new technology that provides data insights at the IAAPA Expo in Orlando this month.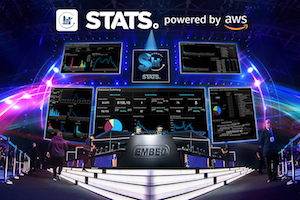 Stats, developed alongside and powered by Amazon Web Services, provides data visualisation dashboards to help FEC operators transform guests' experiences. It will provide revenue data and revenue forecasting, helping them identify the most successful games and predict their revenue. Operators can also track guest activity, average dwell time and spending habits, all while managing their staffing and inventory.
Renee Welsh, CEO at Embed, said: "Given that FECs come in single or multiple locations, we worked closely with both small-medium and large FEC customers to understand their needs and deliver the deep visualised data insights operators wanted from their Embed system.
"We combed through their data, and created sets that will suit the needs of any organisation. Out of these efforts, demos, and trials came a dashboard so flexible and versatile that it doesn't matter what size of FEC is using it – everyone can benefit from Stats to maximize their business."