A new VR attraction has been unveiled by a Turkish manufacturer.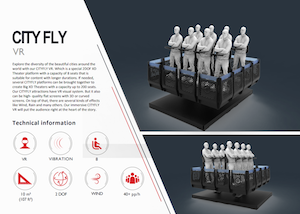 DOF Robotics has shown off its Cityfly attraction, which it says will allow guests to "explore the diversity of beautiful cities around the world."
The experience is based on the company's 2DOF XD Theatre platform and has capacity for eight guests, expandable up to 200 by connecting multiple platforms together.
Each guest will have their own VR headset, but the theatre can also be equipped with high quality flat or curved screens with 3D technology.
4D elements such as wind, rain and others can also be utilised to immerse the guest in the story.