New from Adrenaline Amusements is the Mega Version of the Crazy Tower, a redemption game featuring a semi-transparent pyramid-shaped display.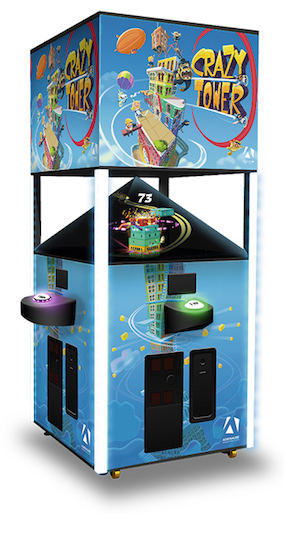 This new iteration of the game includes a 3D hologram display 50 per cent bigger than its predecessor.
Players are challenged to build an isometric tower for points and tickets. Featuring single-button gameplay, players test their stacking skills with the touch of a button to control the height of their tower. Simply push the button when you think that the sliding piece is perfectly lined up with the piece beneath it.
Misjudge and your next building block will be smaller. The taller the tower, the higher the score and the more tickets are won; build a tower high enough to receive the bonus jackpot. This game is 100 per cent skill, designed to offer easy-to-learn yet addictive gameplay. Up to four players can demonstrate their versions of a Crazy Tower through the 48ins holographic 3D display.
Players are also able to compete and challenge each other, with each having their own ticket dispenser. Coin mechs are also available for each player and the game is swipe card compatible.