Following the success of the original Crazy Chicken game, Project has created a version for European markets.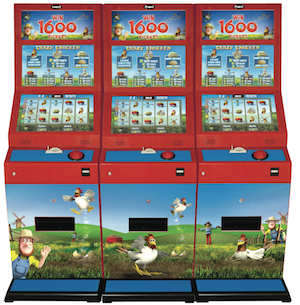 The high impact three-player game offers a full range of percentage settings, from 20 per cent through to 70 per cent.
Project's managing director, Tony Boulton, believes the appeal of the Crazy Chicken brand gives it the strength to succeed in any market. He said: "Our currency is fun, which is also the international language of family entertainment. Crazy Chicken has succeeded in taking redemption to the next level due to the high impact nature of the game as well as the use of video and animation. A family audience that has been raised playing interactive screen games on tablets and other devices is being drawn to more dynamic forms of in-venue entertainment.
"In what is a fast-moving entertainment world dominated by multi-media brands, it's important to add more excitement to game playing, in the process delivering a more fulfilling and contemporary entertainment experience.
"Recent research into consumer attitudes and behaviour in relation to game playing showed that 67 per cent of FEC players said they played just for fun. Crazy Chicken was created to meet exactly that audience profile and the response both in the UK and now in export markets has been very, very encouraging."