CenterEdge Software has launched its CenterEdge Business Intelligence tool.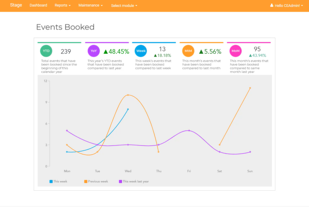 The tool, part of the Advantage POS software, gives users a new, highly-advanced way to review business data. Including admissions, front line, event sales, labour and team member data, the new dashboard shows meaningful business data in a new, customisable format.
"Often, business owners and operators get too caught up in the day-to-day responsibilities of running their facility that the data going on behind the scenes gets lost. Unfortunately, that's one of the most important parts of operations," said Marcus Mayer, CEO of CenterEdge Software.
"Without data, it's impossible to know what items are popular with guests, who the demographic is for different times of the day or, most importantly, what the ROI of an investment is. With CenterEdge Business Intelligence, we've made reviewing business data a highly-visual and simple part of daily operations so owners and operators get the information they need to make informed decisions faster and more meaningfully than ever before."
The CenterEdge Business Intelligence dashboard is only available to existing customers.