BANDAI NAMCO Amusement released a new card redemption game, Red Zone Rush, at the recent International Bowl Expo in Colorado, US.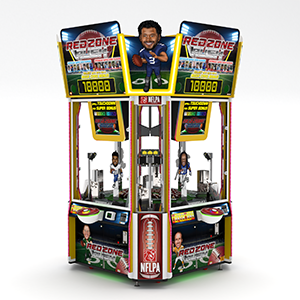 The new four-player centrepiece, in which the player attempts to rush the ball through the "red zone" to score, has been licensed by the National Football League Players' Association.
After choosing their NFL player, the customer needs to concentrate on their timing and push the button to launch their character into the game.
The player will push forward through dozens of mini-footballs on a rotating playfield. They score by pushing any ball into the end zone. They win an immediate ticket value if they score with a ball that has a letter on it and get a bonus prize when all the balls that spell "touchdown" are scored.
Red Zone Rush also lets players win cards, which can be kept, traded in for tickets or saved to win card bonuses.
"The NFLPA licence is a big deal for us, giving guests the opportunity to collect cards with the top stars of the NFL. Initial testing has been outstanding and it is not even close to football season yet. I can't wait to see the in-season collections," said Steve Ignarski, national sales manager BNA. "We have received an amazing reaction to Red Zone Rush at the Bowl Expo, as well as for our other redemption title Jumbo Jumpin', which has also been a great hit with visitors."