Sega has released a gameplay trailer prior to finally unveiling its new racer, ATV Slam at the EAG International show in London from January 15-17.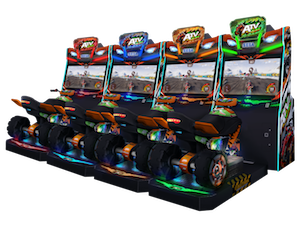 After the title was pulled from an IAAPA debut to make sure it was completely ready, the new game promises to be Sega's first bike racer since Harley-Davidson & L.A. Riders in 1997 and certainly its first ever ATV themed release.
Powered by Sega's tried and trusted Unreal Engine 4, it boasts a 47" HD display, and uses a custom built, air cylinder, motion platform that moves riders around as they race.
Five vehicles can be selected from to speed around ten different environments.