Apple Industries' latest product, the Faceplace Marvel Adventure Lab Outdoor Edition, made its debut at IAAPA Expo Europe recently.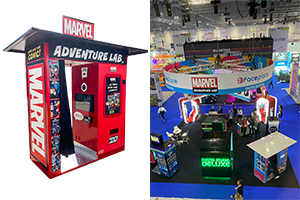 The new product has a smaller footprint than its other Marvel Adventure Labs, making it better suited to outdoor locations such as theme parks, zoos and FECs.
It has all the features of its larger siblings, which offer users the chance to take a photo of themselves and insert it into a customised comic book, joining the action alongside their favourite licenced Marvel characters.
Company president Scott Avery said: "Our new outdoor Marvel Adventure Lab opens up fantastic new real estate, where the operator will enjoy a new source of income driven by the global popularity of the Marvel brand and characters.
"The Marvel Adventure Lab and our other photo booths drew a huge turnout at our show booth. We garnered great interest and a record number of quality leads from operators throughout Europe and the Middle East."
Faceplace Marvel Adventure Lab Outdoor Edition will also be on show at the IAAPA Expo in Orlando, Florida, US, from 14 November.