Sega Amusements is set to launch a new racing game at IAAPA Expo in Orlando, Florida, US, this month.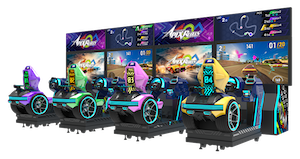 Apex Rebels is a video motion game designed for arcades, FECs and entertainment operators and is suitable for both the casual and enthusiast market.
Its first showing will be at the Sega Amusement by Kaizen Entertainment booth at IAAPA Expo from November 14-17.
In the game, players have five different cars to choose from and can determine their own driving route, based on their racing style, by proceeding through one of three checkpoints. Passing through progressive checkpoints gives speed boosts and unlocks advanced skills such as slipstream, power drifts and aero-drifts. In the aero-drift, the car is raised off the ground, allowing it to take corners at high speeds.
The cabinet features a race car design, alongside vibrant LED lighting and race liveries. Players view a 65ins monitor, while the LED video billboard allows spectators to follow along via the leaderboard and track map, encouraging them to get involved.
Immersion is delivered through a pneumatic motion base, while the gameplay is powered by Unreal Engine 5, which promises high-fidelity graphics.
Marty Smith, US sales manager at Sega Amusements, said: "Apex Rebels is designed to cater to both casual and core players. Its intelligent adaptive difficulty system ensures that everyone can have a blast, while seasoned racers will find ample challenges in the game's intelligent race mechanics. Apex racing is all about igniting your racing spirit, encouraging you to keep coming back for more – you've got to try it out at the show."
Justin Burke, sales director at Sega Amusements, added: "Apex Rebels is consistently a top video game on location, beating its closest rivals by a healthy margin. The reception to the game has been phenomenal, a testament to the game's intelligent race mechanics, and stunning cabinet presentation that encourages social racing.
"Every aspect of the game indicates its high-quality, high-value entertainment and, with returns to support, is a must-have product for locations worldwide."