Andamiro has developed machine-specific partitions for some of its games with two player stations.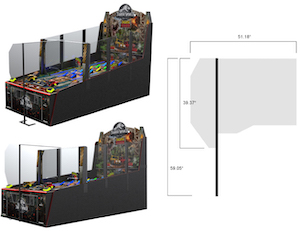 Across the US, arcades and family entertainment centres are grappling with the early stages of reopening and exploring best safety practices during the Covid-19 era, which can last into next year.
Since the coronavirus outbreak prompted federal and state government officials to shut down US entertainment businesses in mid-March, the amusement industry has been considering which cleaning and safety protocols – the new "rules of play" – will provide customers with the most peace of mind.
Andamiro's Personal Player Shields (PPS) are easy to install and provide a stylish separation solution for Andamiro's SpongeBob Pineapple Arcade – perhaps the most widely placed pusher game – and Jurassic World: Fallen Kingdom, which was on its way to becoming this summer's blockbuster arcade attraction.
Several partitioning products have been introduced over the past two months, many of them appearing to be self-supporting bulkheads that can be arbitrarily placed between individual games.
Andamiro's solutions are specific to its games, creating a protective barrier and precise fit between two player stations on single cabinets.