American Pinball has presented the first officially licensed Hot Wheels pinball machine.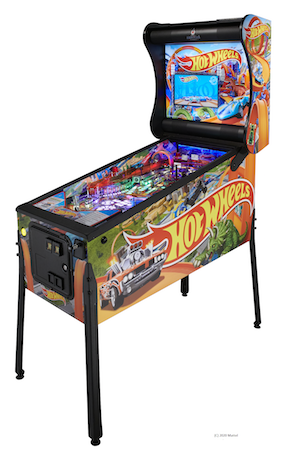 The exciting, fast-paced world of Hot Wheels comes to life under glass with dazzling game play, spectacular effects and a feature-packed playfield layout designed to keep players of all ages racing back to play again and again.
For over 50 years, Mattel's Hot Wheels die-cast cars have been sought and collected by hundreds of millions of fans all over the world. Over six billion cars have been sold, incorporating more than 20,000 different car designs. Today, the multi-generational franchise is the number one selling toy in the world.
Players are propelled to Hot Wheels City, where on offer within are car collecting, races, track building and crashes. Epic challenges, creature battles and more. Designed with operators in mind, there's all-RGB lighting and easy USB code updating. All coils are strength adjustable and a user-friendly service menu guarantees the best performance on location, while replay boost ensures maximum revenues.