The adventure resort, Zip World, in Gwynedd, UK, has submitted plans for mountain carts to descend down a track near to its existing ziplines.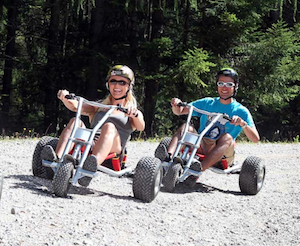 The plans state that, "Mountain carting is a fun, outdoor sport device that provides an unique driving experience all year round. This will add to the existing tourism offer provided by Zip World at their site at Penrhyn Quarry.
"A mountain cart is a three-wheeled cart, which is gravity driven and does not include any form of motor. It has a seat, handlebars with brakes and a footrest."
The plans are currently with Gwynedd County Council for approval.
The carts are thought to be those manufactured by Mountaincart, a German company that has been producing the three-wheeled vehicles (pictured) for the last 10 years and have a presence in resorts in over 20 countries.