Skyline Climb, a new rope climbing course and zipline, will soon open in Rochester, New York, US.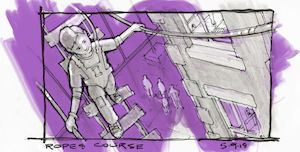 Suspended 28ft above The Strong museum's Elaine Wilson Carousel and Bill Gray's at the Skyliner Diner, guests can traverse beams and balance obstacles, manoeuvre ropes and wobbly bridges, and leap off a zipline platform.
Mike Streb, director of exhibits and quality assurance at The Strong, said: "Skyline Climb allows the museum to explore the importance of physical play. Safe but adventurous play allows us to stretch ourselves, overcome our fears, and build courage and confidence."
The new attraction, which was constructed by RCI Adventure Products, is slated to open November 26 and will be suitable for both adults and supervised children.
Admission for Skyline Climb starts at an additional cost of US$5, with members receiving a discount.