While for some of the longer serving in this industry, the names Angel and Crystal might not resonate, but for 1.82 million people worldwide they certainly do. The pair behind the YouTube channel Plush Time Wins recently held a meet and greet event in London.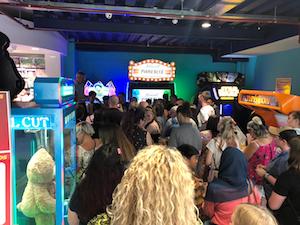 UK FEC chain Funstation used its Shepherd's Bush location in the W12 shopping centre to host the event, which saw hundreds of players coming from all over the country. Those at the back of the queue to meet Angel and Crystal waited for more than three hours to get the chance to chat, take photos and eventually play games with their social media heroes.
Arcade management consultant Toby na Nakhorn, who was working with Funstation when the event was set up, was present to see the success of the appearance and is a keen proponent of leveraging the power of social media, its influencers and followers in the out-of-home amusement industry.
"The West12 event was great, a real buzz," said na Nakhorn. "Angel and Crystal just like having fun in arcades and it's not just them - their 1.82 million followers love doing exactly the same. Funstation was the ideal location for this, as fun is what they set out to provide as well.
"The day was proof positive of the benefits of events at arcades and FECs. It gives people a reason to revisit. The face-to-face interaction, smiles and feel good vibes of human contact in a place like this is just something that isn't the same, sat at home on a PlayStation or Xbox."
Look out for December's issue of InterGame for a more in-depth look at the event, the participants and the wider impact of social media on the industry.