The world's tallest climbing wall at 80 metres, has been built by specialist company Walltopia, at CopenHill in Copenhagen, Denmark.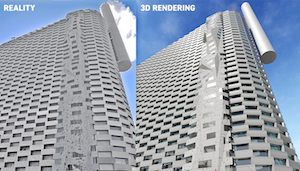 What is being called "a climbing monster" was a challenge for Walltopia, said Vasil Sharlanov, who worked on the design. "The goal was to create appearance matching the impressive building architecture while designing wall topology that offered supreme climbing experience."
Head of sales at Walltopia, Sharlanov, said the wall had to be compatible with the super-energy-efficient power plant that is CopenHill. The climbing feature has been five years in the planning, developing and construction.
The climbing experience has been divided into four "pitches", each roughly 20m and each is different, starting with the easiest at the bottom.