Jumpers in the US Rocky Mountain city of Bozeman, Montana will soon be able to do their bouncing in a neon themed trampoline park.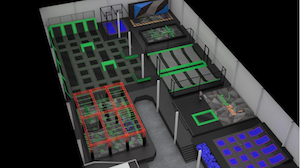 Jump Time Bozeman, will be the first trampoline park in the world to offer a variety of attractions that illuminate when exposed to black lights.
The 24,000sq.ft entertainment centre will include the very first neon orange ninja course and will be the first park to have trampoline padding wrapped in a neon green vinyl.
It will also feature custom air bags with black light reactive graphics, trampoline beds that feature neon safety stripes, and a custom traverse climbing wall with neon grips that will produce a neon glow effect under the black lights.
The location will be the fourth for the Jump Time brand that includes locations in Meridian, Boise, and Twin Falls, all in Idaho.
"Trampoline parks have evolved to include much more than just trampolines. Our park in Bozeman will have a kiddy area, battle beam and slack-line, neon ninja course, stunt jump and climbing attraction in addition to all of the popular trampoline attractions," said co-owner, Chad Babcock
Commenting on the change that he has experienced in the industry, he said: "The first park I built had basic red and blue pads with black trampoline beds. Today, trampoline parks have a variety of bed and pad colour options, so when Best American Trampolines approached me with their latest neon colour options I was on board."
Best American Trampoline Parks is the first manufacturer in the industry to design a black light reactive trampoline park and was happy to help the Jump Time team design out the entertainment centre with a neon theme.
Best American's president and CEO, Phillip Howell, commented: "The timing couldn't have been any better. We were able to offer Chad some product options that don't exist anywhere else in the world. There are a few trampoline parks that have neon stripes on their trampoline beds, but we took it ten steps further offering an array of products that glow. Pretty much everything we installed will glow! I can't wait to see his black lights flip on for the first time."
The new park is the final stages of its fit-out and is due to open later this month.