As part of its 50th anniversary celebrations, UK kiddie ride manufacturer World of Rides will launch its new Baby Ladybird Train at the Farm and Holiday Parks Exhibition on stand FR910 at the NEC in Birmingham from November 6-7.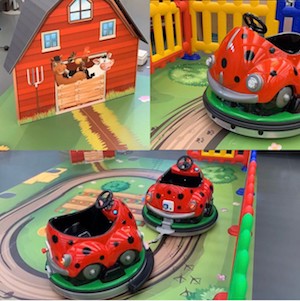 All the company's existing battery rides can seat either an adult and child or two children up to the age of 12 and can be used either indoors or outdoors, but its Baby Trains are single seat rides suitable for indoor use only and built specifically for the growing three to eight year-old market in response to industry demand.
Each of the Baby Trains follow a pre-set track around a range of colourfully themed baseboards and come complete with a similarly designed perimeter safety fence with an entrance gate. Lights and sound effects are built as well as an operator-programmable control unit.
Each train also comes supplied with a 12v high-output, long-life battery and a 12v fully automatic battery charger.
The rides fully conform to European CE, TUV and UK HSE-BACTA-ADIPS safety standards, and the cars themselves have sensors fitted so that the ride automatically stops if a child stands up, or if someone stands in front of either of the cars while they are in motion. An emergency stop/start pushbutton is also fitted to the rear of the train for adults to activate.
The whole package features a compact footprint of 3m x 4m, making it suitable for most indoor locations.