Kulnari Mystery Golf is a unique mini-golf experience melding the popular attraction format with a "whodunnit" mystery.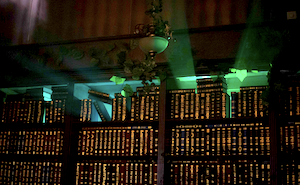 The new venture immerses putters in the narrative of the game as they move through the fictional Kulnari Trading Company space. Taking place in the 1920s, the atmospheric game draws on the history of the time as well as its evocative Boat Quay location.
The long-gestating idea was conjured up by entrepeneurial mother and son Philomena and Alistair Cannon-Brookes.
Alistair told ABS-CBN News: "We realised there were very few people in Southeast Asia that had mini-golf courses. In the UK alone you have over 900. But in south east Asia there's less than 10. It really is something that isn't done.
"As we went from one location to the next - we had some real estate deals that fell through - the idea kept getting better and better with each failed iteration."
There course is 18 holes with the middle of the game punctuated by a visit to the venue's 9th Hole Bar, where F&B delights can be enjoyed and theories can be discussed with the team.