There was a strong finish to LAI Games' performance at the IAAPA Expo in Orlando, Florida.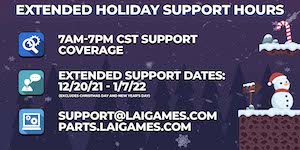 Its 5D racing simulator, Asphalt 9 Legends Arcade, was a major hit in the coin-op sector of the big US-based event.
Many attendees rated the game the hit of the show and LAI reports that its order book reflected that view for both the simulator or premium models of the game.
In the photograph, LAI sales driver Chris Brady is seen with the company's booth hostesses against a backdrop of Asphalt 9.
In partnership with D-Box, LAI also hosted the IAAPA Virtual Reality Supplier Tour participants in the show booth to discuss the game with the best ROI in the VR business, Virtual Rabbids: The Big Ride.
Also attracting attention on the booth was the AMOA Innovator Award-winning game Angry Birds Coin Crash, making its debut at IAAPA. Other popular games on display were the HYPERpitch, HYPERshoot and Let's Bounce.