Water-based attractions developer WhiteWater reported at the IAAPA show on the wide range of projects in which it is now involved.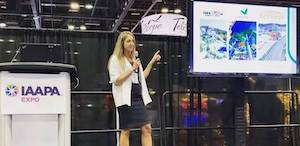 To bring its 40th anniversary celebrations to a close, the Canadian company has invested in regional offices, with Shanghai for Asia, Munich to cover Europe, Russia and Africa and Dubai for the Middle East and India.
The water park specialist has also set out sustainability plans to half its waste by 2030 and to become net-zero by 2040.
During the lockdown it recruited a number of leading industry personnel to its ranks and has embarked upon some major projects. They include the 14 Super Flume vehicles to Warner Bros Movie World in Queensland, Australia, and some major milestones for its FlowRider surf simulator. It now offers FlowRider Edge for under-utilised pools, FlowCurl with a curved barrel section for expert tricks and FlowSurf, a river surfing experience.
There are a number of surf park destinations under development for WhiteWater's surf pool division Endless Surf, including Australia's Gold Coast and Port Douglas and Surftown in Germany.
Its Vantage-powered Surf Conciege software has been enhanced and Atlantis Dubai is using it for a single guest experience platform starting with Aquaventure, its water park.
The company picked up a Brass Ring Award at IAAPA for its new competition slide, Parallel Pursuit.
Projects completed during the lockdown include major installations in the US, Mexico, Italy, China, India, the UAE and Qatar. Coming up are developments in Australia, France, the US, China and Qatar.
In the picture WhiteWater's Emily Colombo is addressing attendees on the group's latest plans.