The Western Australian Government has imposed fresh regulations on entry to a wide range of indoor and outdoor gatherings, including attractions, from January 31.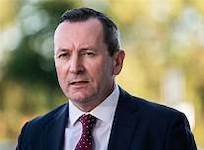 The state prime minister Mark McGowan (pictured) brought in the rule for citizens aged over 16 to show proof of vaccination to gain entry to attractions, together with gyms, bars, play centres, gambling establishments, cinemas, other forms of indoor entertainment and stadia.
The object, he said, was to make life very difficult for the unvaccinated.