The Warehouse Climbing Centre, an operator based in Gloucester, UK, is nearing completion on its redevelopment plans.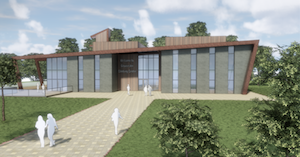 The finished project will include one of the largest indoor climbing centres in the UK, an outdoor climbing wall, a bouldering zone, an artificial caving system, zip lines, a multi-activity tower, and high and low level ropes courses.
The project is being managed by specialist adventure activity consultants VentureActive. Its directors, Robert and David Stevens, also own part of The Warehouse.
David said: "After 12 months in development, we're delighted to be able to go public with our future plans. We see the venue being a landmark attraction for Gloucestershire and hope to be able to announce further details, including the location over the next few weeks – so watch this space!"
He added: "The new centre will be a huge benefit to the community and local area -new jobs will be created, our existing members will be able to climb and cave in one of the biggest and best venues in the country, and with the addition of outdoor space and the new activities we'll also be able to help fuel the increased enthusiasm for adventure experiences that are now so popular."