Vortex Aquatic Structures International has brought the Dream Tunnel attraction back to the IAAPA Expo this week.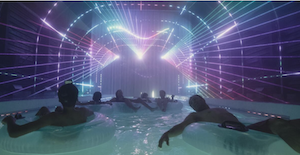 The Dream Tunnel is an immersive aquatic experience, available to be installed in both on-water and on-land venues.
The attraction places visitors in a vibrant dreamscape, where cutting edge technology projects lights and imagery to dazzle guests.
Visitors can either walk through the space, or float on rubber rings, as chosen by the operator of the venue.
Vortex will be exhibiting at booth 1047 for the Expo, which is taking place this week, November 15-18.